Faculty
Faculty
author:school release date:2020-08-05 14:13:00
Zhang Ying, Assistant Principal, the Head of Kindergarten, is one of Tsinglan Creators. Ying graduated from Beijing Foreign Studies University for the bachelor degree and got her master degree in the University of Texas at Dallas. She had in-depth understanding and broadened view of western culture because of her 10+ years overseas experiences including living, studying and multi-culture management. She becomes more confident in children education while increasingly realizing importance of the earlier correction of kid's personality including temperament and disposition through her journey of cultivating her own two sons. She had once been engaged in the program of children intelligence development during her UTD study. Her frequent kindergarten-related involvement in lots of activities, i.e. training, curriculum designing & planning, teambuilding, talent selection and so on, has laid down concrete expertise basis of leading this promising kindergarten. Of course, both her extraordinary management experiences and unique education background are big exceptional plus over her existing position.
Tina Wang, Pre-school Administrative Director, Tsinghua High School Alumni. Ms Wang received her bachelor's and master's degrees from Tsinghua University, majoring in economics and HR management and was awarded Excellent Student Leader. She visited the United States twice as a student representative, completing the management program at Babson College and the leadership program by the International Leadership Foundation. She has worked for the Head Office of China Construction Bank and Tsinghua Unigroup and took the role of Operations Chief of one of Beijing International Kindergarten. She loves singing, running, swimming and has a cheerful and easygoing character. Enthusiastic for early childhood education, she also has international kindergarten work experience.
Gordana Orlovic, kindergarten homeroom teacher, coming from Sylvia, lived in China for over 5 years. Her love of languages started when she was only a little child. That love inspired her to obtain her BA in Chinese Language and literature from University of Belgrade. Currently she can speak 5 languages, 3 of them fluently. She has 5 years of working experiences in a Montessori environment. She took her Montessori training at EtonKids Montessori Teacher Training Academy. Working with the youngest children has taught her that learning is a mutual process between a child and a teacher, She has always thought that requirements for being a teacher are being kind, compassionate, creative, patient, adoring, and dedicated.
Michelle Pasaoa, kindergarten homeroom teacher, joining Tsinglan School in August 2020. She graduated with a bachelor's degree in communication arts major in communication management from Assumption College, Philippines. She has over a decade worth of experience working in an international school, where she was awarded Teacher of the Year. As a product of international school education herself, she relates to the challenges students face in learning subjects in English as a foreign language. Her passion is to equip young learners with a strong literacy foundation in a learning atmosphere that promotes exploration and analytical skills. The lasting bond and connection that she makes with her students keeps her driven and motivated.
Henry Wang, lead teacher of kindergarten (5-6), joining Tsinglan School in August 2020. She graduated from school of foreign languages, Sun Yat-sen University, majoring in Teaching Chinese to Speakers of Other Languages. Taking Master courses of child developmental psychology, institute of psychology of CAS. Taking AMS teacher training. Has served as the lead teacher of Montessori, IB teaching supervisor, and head of the teaching school, etc. Has 5 years' experience in preschool education and a high level of preschool education theory, focusing on the research of early childhood development.
Ahao, Assistant to Resource Management Center. Ahao earned a Master's degree inInternational Chinese Education at Yunnan University, with research in foreign language teaching and students' motivation and attribution. Selected by Hanban,the Chinese Language Council International, and the College Board, he has taught in the Shaker Heights City School District, Ohio. He has a good understanding of the American primary and middle school education.
Grace Gao, PreK-K Director, Homeroom Teacher. Mrs. Gao graduated from the Beijing Institute of Education majoring in English and pre-school education., She has participated in AMS Montessori College's 3-6-year-old Montessori teaching method training, and is a certified Montessori teacher. She has served as an English teacher, Montessori teacher, teaching director and other positions in her 16-year career s of pre-school education. As a result, she has a wealth of knowledge regarding early childhood education, especially Montessori education.
Susie Wang, kindergarten intern, graduated from North China Electric Power University with major in English for Bachelor degree, and Wuhan University with major in English-Chinese Translation for Mater degree. She has passed TEM-8 and got the certificates of China Accreditation Test for Translators and Interpret, II Consecutive interpreter and II translator. She studied in South Korea and worked in United Kingdom for a year. She's an open-minded person who love sports and education, hoping to grow as a kind, creative and loving teacher.
Tracy Huang,kindergarten intern, Master's degree, graduated from the National Kaohsiung First University of Science and Technology, majoring in logistics management. Having experience of exchange student in public administration at Beijing University of Posts and Telecommunications. While at college worked as planning assistant, teaching assistant, vice captain of the swimming team and publicity representative of the Logistic department. Love swimming, diving and other outdoor sports and have six years experience in swimming teaching.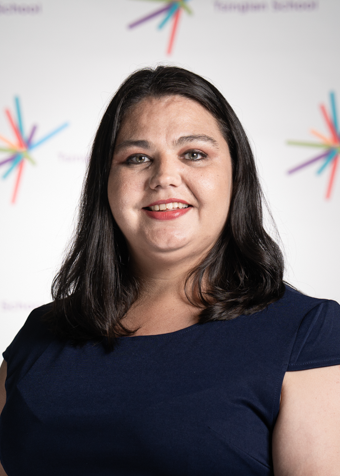 Merwede Monique Maritz, Kindergarten Teacher, from South Africa. She graduated from Crown University in the USA. She has been an educator for over 20 years, with her main focus being on Kindergarten and Early childhood education and Psychology. Mrs. Maritz has teaching experience in South Africa, Sweden and China. She is passionate and not afraid of a challenge. She enjoys travelling, swimming and abstract painting. Her favorite educational quote is: Speak to your children as if they are the wisest, kindest, most beautiful and a magical human on the earth, for what they believe is what they will become.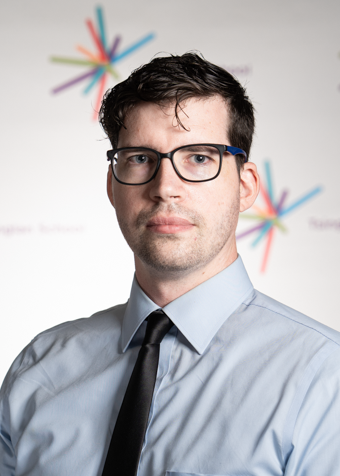 Daniel Lindell, Kindergarten Homeroom teacher, from the United States. He graduated from Central Washington University and has been working with children for the past 8 years. He enjoys introducing children to art and drawing whenever possible. He loves to help children change their mindset from, "I can't" to "I haven't learned yet". Children have amazing potential, they just need someone to encourage them and help them believe in themselves. His hobbies include mountain biking, snowboarding, and sketching as well as traveling .
Ms. Teresa Zhang is a certified teacher in New Zealand who joined Tsinglan in March 2020 as the preschool academic assistant. She graduated from the South China Normal University and the University of Auckland, majoring in early childhood education. She has worked as a teacher with Kindercare Learning Centre in Auckland for nearly 12 years, while mentoring student interns on practicum works from universities across New Zealand. She has received four awards in early childhood education: Best Practice Award, Excel Education Awards and Special Commendation. Having worked both in China and overseas, Ms. Zhang respects the personality and interests of every child, hopes to enhance children's holistic learning abilities and social emotional competencies, and thus supports children in reaching their full potential.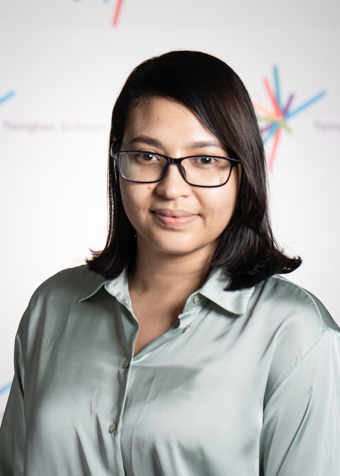 Maria Cordoba, Kindergarten Teacher, joined Tsinglan in August 2021. She graduated with a bachelor's degree in International Relations and Political Science from Universidad del Norte in Colombia. Maria is currently pursuing her master's degree in Applied Linguistics at the University of Massachusetts Boston. With more than 4 years of teaching experience, she became an experienced homeroom teacher, English, and Spanish language teacher. She is passionate about teaching and believes in the importance of being a good role model for younger generations.
Ben Kruger. Kindergarten Homeroom teacher from South African,joining in Tsinglan school in September 2020. He graduated from Harris University. He got the TEFL certification and combined 3 years of teaching experience in diverse fields. He also had experience in training foreigners that completed their TEFL and newly started their teaching endeavors in China. His hobbies are keeping fit, partaking in extreme sports and motocross sports. He loves watching sports and like to be competitive at it too. He likes to listen to, but mostly play music. He also has a great music, art, and creative background. He and his teams mission, is to keep a strong team bond so the whole team can reach their goal to continue an Elite service with support in IQ, EQ and creativity.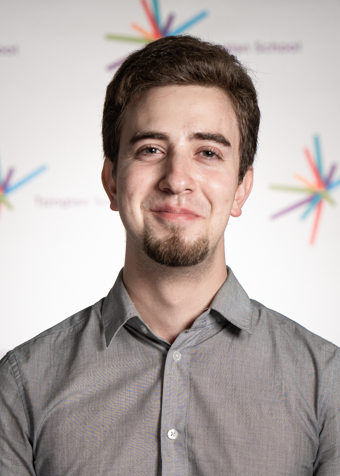 Daniel Riether, Kindergarten Teacher, from the United States. He graduated from Tianjin Nankai University with a Bachelor's degree, and has lived in China for many years. He worked as a teacher in Tianjin for four years as an English teacher before coming to Tsinglan. Daniel is also an aspiring voice actor and has recorded a number of audiobooks for young children.
Hart Pittard, PreK-K Homeroom Teacher. Mr. Pittard graduated from University of North Carolina. He has worked at International Montessori Kindergarten since 2012 and have Montessori Teaching Certification. His teaching goal is to create a safe, interesting, and fun class atmosphere in which children can unlock their potentials and learn from life. He also believes that encouraging and praising children will make them more independent, confident, socially intelligent, and respectful of themselves and others.
Kate Lapshinova, Kindergarten teaching assistant from Russia, joining Tsinglan School in August 2020, graduated from University of Nizhny Novgorod. She will be achieving Postgraduate Certificate in Education in 2020. She has been teaching Kindergarten students for 2 years. Together with other international teachers, she organized a number of intercultural projects that not only acquainted students with the customs and cultures of different countries, but also developed useful skills and abilities in them including singing, dancing and drawing. She gets a strong fulfillment from her job and watching students develop their cognitive skills at such a young age brings joy to her heart!
In her spare time, she likes to self-educate and learn from others around her with more experience. She likes running, travelling and learning new languages!
Lilianeth Morales, from Maracaibo city, Venezuela, Kindergarten homeroom teacher, joined Tsinglan School in February 2021. Lili obtained her B.A in Graphic Design from URBE University in 2011; in the same year, she relocated to Beijing and joined a Mandarin language program with Renmin University of China, where she grew her interest in early childhood education. After Lili taught English in a Montessori setting in 2014, she decided to become a Montessori educator for her career and received her Montessori membership certification with AMS 3-6 training in 2017 at North American Montessori Center. Her charisma along with her 7+ years of experience at Montessori settings makes her an exceptional addition to the wonderful team of teachers Tsinglan School has this year.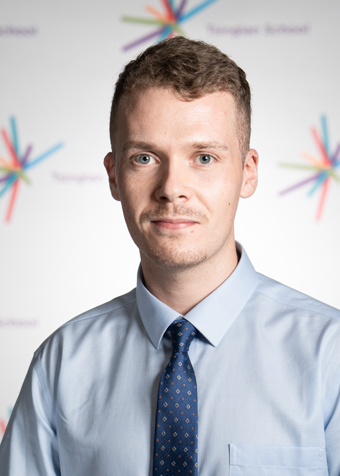 Cian Reck, Kindergarten Homeroom teacher, from Ireland. He studied at Dublin City University for a degree of Bachelor of Arts (Honors) in Economics, Politics and Law. Since graduation, he has been focused on teaching English to bilingual students. Before moving to China, he has worked as a kindergarten English teacher for over 6 years in Spain. In his spare time he is particularly enthusiastic about playing football and tennis.
Daniel Gabriel, Music Teacher. Daniel is an experienced, enthusiastic and focused teacher committed to safeguarding and promoting the education and well-being of his pupils. Daniel graduated from Leeds College of Music, gained his PGCE from the University of Cumbria, and is currently studying to become a certified Kodaly Music Instructor. Daniel has been teaching in international schools for over ten years, with a focus on music for early education. Daniel is passionate about giving his pupils the best possible education in life and promotes a love for learning ethos towards his students to encourage them to become lifelong learners and instil a healthy passion for music and the arts.
David Hodges, PE teacher from the UK, joining Tsinglan School in August 2020, graduated with a BA in Physical Education with Outdoor Education, from Leeds Metropolitan University in the UK. David is an experienced PE teacher and swimming instructor. He is passionate about Early Years Education, physical activity and sport. He is an avid football player, skier and swimmer, and loves the great outdoors and being amongst nature. He feels privileged to be able to share his lifelong passion for physical activity with young learners and to help nurture their development and confidence in their own physical capabilities.
Ren Guo, Kindergarten intern, graduated from Hunan University of Technology, School of Foreign Languages, majoring in English. He passed TEM-8, and has engaged in early childhood English education for one year and worked in Australia for two years. Ren is very caring and patient, good at creating an active and diverse classroom atmosphere, communicating with children and guiding them to learn and express themselves. He likes travelling, sports and cooking.
Connie Wang, kindergarten intern, who has passed TEM-8 and got the certificate of Teachers' qualification (English). She obtained the master degree in Shanxi Normal University, majoring in English subject education. Due to the excellent performance in her postgraduate studies, she won several scholarships and got the honor title of "Outstanding graduate student". She used to be an external English teacher in School of Foreign languages of Shanxi Normal University. With the strong interest in singing,painting, yoga, photography and traveling. She is full of love and patience for her students and loves education.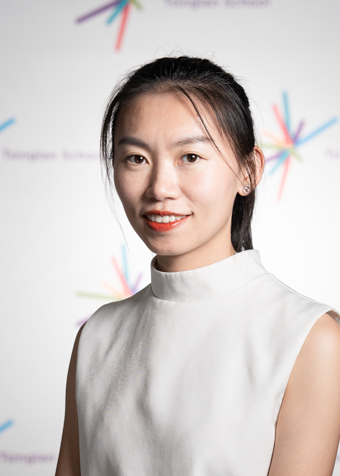 Chloe Li, Kindergarten Homeroom Teacher. She graduated from Beijing Normal University majoring in Early Childhood Education. Since graduation, she has been engaged in Early Childhood Education for more than 10 years. She was awarded with Advanced Teacher of Early Childhood Education and Excellent Teacher of Education from Early Childhood Education Association. In her free time, Chloe enjoys reading, cooking, dancing and diving.
Donna Yang, Kindergarten Homeroom Teacher. She graduated from Walden University with a Master's Degree in Education. With 9 years of teaching experience, she has her passion in children's development and want to be part of the future-oriented education. In her spare time, she likes hiking and working on handcrafts.
Fenrry Zhang, kindergarten intern, graduated from Central China Normal University with a master degree, majoring in pre-school education. She has 6 years working experience as a Montessori kindergarten teacher, and she is in learning of AMS3-6 course. She improve herself constantly by putting theory into classroom management and observation . She loves nature, poem, and likes to share all wonderful things with children. For her, Inner peace and love are the most important qualification requirements to be a teacher, which inspire her to pursue and carry on.
Jingjing Liu, Pre-K homeroom teacher. Jingjing graduated from South China Normal University music department. She has been in preschool education for 11 years and has served as head teacher and teaching director. Part of her kindergarten work involves "Music Nourishing", "collective inquiry" curriculum research and development. In 2011, she represented Shenzhen South Mt. District and participated in Shenzhen Kindergarten teachers basic Skills competition and won first prize. She received kindergarten director qualification in Guangdong Province in 2015. She participated in AMS (ages 3-6) in 2016 for certified teacher training and received certification qualification.
Daisy Yang, Pre-K homeroom teacher. Daisy graduated from Tianjin Normal University majoring in English Teaching and Early Childhood Education. She has AMS 2.5-6 Credential and TEM-8 Certificate. She previously worked as AMS Training Course Field Consultant and Admission Director. She gained about 10 years working experience in Montessori Early Childhood Education and is passionate about the subject. She has done extensive research on preschool children's development and family education. Yan's strength is instruction design based on individualism. Yan has received honor as "Outstanding Montessori Teacher" many times. She is devoted to promoting Montessori Early Childhood development in China.
Andrea Cai, Pre-K homeroom teacher. Andrea graduated from University of Macau with a master degree in Early Childhood Education and Development. She has AMI Teacher Training Certificate and Montessori Classroom Visual Arts Training Certificate. She has worked as the project leader of the research on Macau family environment for children and child development. And she has worked in international schools for several years, serving as the IB homeroom teacher, leader of nursery group and principle assistant. She believes in children's inner spirit and power, and she is very keen on early childhood education.
May Deng,join Tsinglan Preschool in 2018,major in education from Center China Normal University. She has CET6, Mandarin grade 2 level A,Language Art Teacher Certification, National English Teacher Certification,
Certification of the educational drama teacher's training from Pr. Joe Winston, University of Warwick. AMS certification in progressing.
She has been working as an early childhood teacher almost 10 years, she worked as an English teacher, homeroom and grade leader in bilingual and international kindergarten for 5 years.
Now she is working on structuring and practicing drama curriculum in early childhood education.
Stella Jiao, K homeroom teacher. Stella graduated with a master degree in early childhood education from Monash University Australia. She is a VIT registered teacher and has been teaching in local private Kindergarten for several years, and she also worked as a Chinese teacher for pre-schools. Stella has a lot of teaching and classroom management experience. She organizes regular excursions within the local and wider community and implements several projects in Kindergarten such as sustainability and reconciliation projects. She believes that environment and society is significant in children's development and hopes to learn and grow with children in a welcoming, safe and enriched open-ended environment.
Amber Liu, kindergarten teaching assistant & nurse, joining Tsinglan School in August 2020. She graduated from Zhejiang college of Chinese traditional medicine then worked as a resident doctor in a hospital. After ten years, she obtained a master's degree of basic medicine from Zhejiang University of Chinese traditional medicine, and had been engaged in medical related industries until 2014. In the same year, she participated in the half-term training of pre-school education in East China Normal University. She holds a pre-school teacher certificate. Since March 2015 until now, she has been a teacher in Modern Baby Kindergarten of Pudong District in Shanghai, Okiki Kindergarten and Papa Garden. During the past 5 years, every child has been taken good care of by her with love, dedication, patience and responsibility. Children are treated well with her warmth and love.
Sha Du, kindergarten intern, graduated from University of Düsseldorf in German holding a Certificate of AMI Children's House Assistants Course. Having lived and studied in Germany for five years, she has a firm knowledge of German childhood education. She understands the importance of creating differentiated and personalized learning for all students in the classroom.
Cami Luo, kindergarten teaching assistant, joined Tsinglan School in February 2021. She graduated as a Master in Early Childhood Education major from The Chinese University of Hong Kong and received her Montessori training and certification from Montessori Institute of San Diego. She is very passionate about the profession of early childhood education, and she deeply believes education is not just about teaching knowledge, but more importantly, teaching the spirit and love. Cami has sojourned and studied in Taiwan, New Zealand, Hong Kong and US, she loves learning different cultures and willing to try and push through the limits of herself. In her spare time, she enjoys photography, reading, yoga, skateboarding and spending time with her family.
Julie Chen, K homeroom teacher. Julie received her bachelor degree in English teaching. She has worked in the international school for five years as a teacher for preschool, pre-kindergarten, kindergarten, respectively. So she knows the growth characteristics of children in various ages well. She observes the children attentively, listens to their inner thoughts, cultivates their good habits and learning interests, and wins their love and parents' recognition. She won the teacher of the year award and excellent demonstration class for many times.
Tia Zhang, K homeroom teacher. Tia graduated from Sichuan Normal University with a bachelor degree and Nanjing Normal University with a master degree, majoring in preschool education. She once collaborated with NGOs to design curriculums and guidebooks for children and teachers in rural areas. She is devoted to art and knows how to organize art activities with young children. She believes that play and art both have an influence in shaping young children's personality. She hopes to grow with children while supporting them.
Christy Huang, Kindergarten Intern, joining Tsinglan School in August 2020. She graduated from Imperial College London with Bachelor's and Master's degrees in Civil and Environmental Engineering. She has solid knowledge ranging from architectural design, 3D modeling, and programming languages to technical drawings. Driven by her curiosity around the world, the rich experiences in different countries across continents empowered her pursuit of building a diversified and inclusive environment for the children.
Danny Wang, kindergarten intern, graduated from Tianjin University of Science and Technology with a major in international economics and trade, worked as a part-time IELTS teacher in Tianjin New Oriental. Then graduated from the EDHEC Business School in France with a Master's degree in Finance and currently a certified Financial Risk Manager. She has been working for a large French company and a NASDAQ-listed company. She is currently studying for the Master of Child Psychology and Education at the Institute of Psychology of the Chinese Academy of Sciences. She has participated in online courses such as family engagement in education, parenting and education, and child development psychology at international institutions, and has participated in PET training and PCIT training courses. She believes that nature education and visual education makes great impact in early childhood and she believes that the freedom environment, love language, respectful behavior and humble attitude given by adults can help children develop their nature and a healthy personality.
Hannah Chen, kindergarten intern, has studied in Germany and the United States. She graduated from University of Wisconsin- La Crosse, with German Education major and TESOL minor. She is a member of Kappa Delta Pi. During her study abroad period, she activity participated in varied programs and activities in the communities. She had been working as a teacher assistant at a Child Care Center, and teacher candidate in School District of La Crosse.
Cindy Li, kindergarten intern, graduated from Tianjin Polytechnic University and the University of Wollongong, Australia. Three years of overseas experience cultivated her excellent observation, self-directed research skill, analytical skill, execution and communication skill. She formulates practical work and study plans, is an outstanding team player, and is always proactive and persistent in learning. She is positive, optimistic, approachable and diligent. She welcomes changes and challenges. She has a strong sense of responsibility and pays great attention to details. She hopes to become a kindergarten teacher and to realize her dream.
Zhezhe Zhang, Pre-K homeroom teacher. Mrs. Zhang graduated from Xinjiang Medical University majoring in nursing. She has 5 years of experience in preschool education, firmly believes in the equality between children and adults, and applies that belief in real life. She respects children, and loves accompanying children to grow.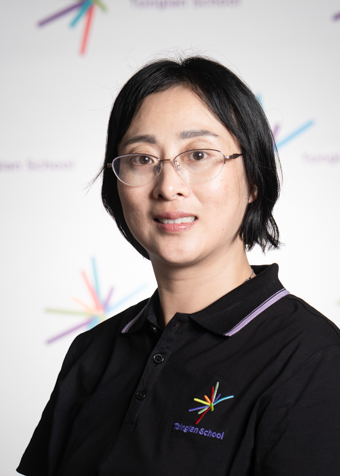 Anna Zhao, Kindergarten Teaching Assistant. She graduated from Luoyang Normal University, majoring in Chinese Language and Literature Education. She is certificated AMS and AMI 3-6 Montessori teacher. In terms of her teaching experience, She has engaged in language education and Montessori education for many years. She believes she is capable of mixing the Chinese traditional culture into the Montessori education. In her spare time, she likes reading and yoga.
Emma Li, kindergarten assistant. Emma graduated from East China Normal University majoring in preschool education. She has been working in Montessori kindergarten since 2015. As a preschool teacher, she believes that education should be student-centered. Educators should respect children first before helping them achieve their dreams.
Li Bao (Leo), kindergarten teaching assistant, joining Tsinglan School in August 2020. He graduated from North China Electric Power University and is a Member of the American Montessori Society (AMS) and a Member of the Association Montessori Internationale(AMI). He is Montessori-trained at the Assistant to Infancy, and Elementary levels. He has the elementary school teacher qualification certificate. Leo loves skiing and outdoor sports, Focus on the practice of personalized education concept.he firmly believes that life makes love, and children are the hope of mankind.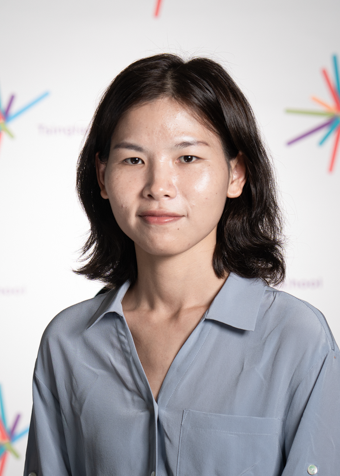 Yanqing Lu, Kindergarten Teacher. She graduated from Guangdong University of Foreign Studies majoring in Psychology. During her undergraduate years, she studied in Inha University in Korea for one year, and currently she is pursuing for a Master's Degree in education. Ms. Lu not only has rich teaching experience in early childhood natural education course development, but also is a certified teacher in early-child positive education. At the same time, she is always enthusiastic about charity education activities. She joined Teach for China and worked as a volunteer teacher in Yunnan for 2 years and also she is a regular volunteer in Mother House in India. In her spare time, she likes reading, painting, travelling and cooking.
Lisa Zhong, kindergarten intern, joining Tsinglan school in August 2020. She graduated from Shenzhen University with a bachelor's degree in international economics & trade, and a master's degree in market analysis from Lancaster University. She has 1-year experience in product and marketing operation and good at data analysis with programming software. She was the project leader of Lancaster Marketing Hacker Marathon. She won the 1st prize of Shenzhen University's cultural and sports Scholarship (at school level), the 1st prize of Shenzhen University's group dance competition at school level, the excellent award of "Gantang Mingshan" marketing planning competition of Shenzhen University, and the 3rd place of Lancaster University Hacker Marathon.
She likes playing piano, cooking, fitness and singing.
Leah Yin, kindergarten teacher, joined in 2018. She graduated from Qingdao Technological University and Kyeongdong University, South Korea. She has many years of educational experience as well as numerous qualifications including international AMS 3-6 certification and advanced picture book instruction. She excels at applying her teaching theory in the classroom and is proficient at increasing students interest in reading. Her teaching motto is: Love education; Love the children more. She hopes to inspire each and every child through the love of reading!
Jimmy Zhang, kindergarten intern, obtained Bachelor's Degree in College English from Central China Normal University, Master's Degree in Preschool Education from Central China Normal University. She has a solid pre-school education scientific research ability. During her master's degree, she was taught by Professor Cai Yingqi, Central China Normal University, and engaged in a number of national-level academic classroom research. As the lead teacher of Kindergarten, she has daily teaching experience and the ability of curriculum development of provincial kindergartens. As a researcher, she participated in the research and development of teaching aids for kindergarten activities under the "Yitong bud plan". With patience and love to nurture children, good at using vivid stories, cultivate children's good moral character, stimulate children's language expression ability, imagination and creativity.
Grace Wen, kindergarten teacher, joined Tsinglan School in February 2021. She graduated from the South China Normal University with a Master degree in Art major. With her 3 years of Montessori teaching experience, her passion and perseverance in Montessori education have never changed throughout the way. She specializes in integrating music elements into daily life and teaching activities to stimulate kids' ability of artistic and aesthetic.
Ms. Wendy Lu is a preschool intern who joined Tsinglan in March 2020. She graduated from Guangzhou University majoring in preschool education, and has a kindergarten teacher qualification certificate. She is interested in handbook, reading and climbing. She is passionate about early childhood education and believes in the power of growth. She hopes to dedicate her enthusiasm and energy to accompanying children's healthy and joyful growth.
Vicky Niu, kindergarten intern, graduated from University of Paris, majoring in psychology. joining Tsinglan School in August 2020. She speaks fluent French. She always interested in innovational education and she believes that
educators are only assistants in children's development, what they have to do is to provide a safe and enriched open-ended environment which kids can create themselves by their own.
Summer Zhou is a preschool intern who joined Tsinglan in August 2020. She graduated from Wuhan Conservatory of music with major in musical performance for Bachelor degree, and Auburn University with major in music education for Master degree. During her undergraduate period, she participated in the "China Opera Festival II", in the meantime, she was an music teacher in domestic kindergartens. She participated in the rehearsal of junior high school Symphony Orchestra and visited choral performances of primary and secondary schools when she was studying in the United States. Ms. Summer has nearly a year of teaching experience in preschool in the United States. She learned Chinese traditional musical instrument "Er hu"from five years old, and she has four years of vocal learning experience, she's also good at ukulele.
Cara Wu, kindergarten assistant. She graduated from Hunan College of Information in 2012, majoring in Business English. 2014 Cara completed her teaching certificate in primary education, putting her on the path towards education she has been loving. In 2017 Cara moved to Dongguan to expand her experience as a volunteer at the local community center with young kids. Care loves yoga, swimming, climbing, and any fitness related activities in her free time. She hopes she can learn with her students and grow happily with them.
Lorraine graduated from Beijing Normal University, Zhuhai majoring in Early Childhood Education and The University of Edinburgh in MSc Education (Child and Adolescent Psychology), with a bachelor and a master degree respectively. She hold a Kindergarten Teacher Qualification Certificate and a Family Education Instructor Certificate. The class system of early childhood education gives her a great faith in it, including Play in Early Years and Drama in Education, etc. She used to learn and work in kindergarten, institution for early education and art studio for preschoolers. She was also a volunteer in a nursery in Scotland during her master programme. She believe that early years education is alive. It's not only about the nurture of perception and independence, but also about the cultivation of a "whole person" where optimistic, respectful and interesting adults are needed to help.
Jenny Wu, Kindergarten intern teacher, joined Tsinglan School in February 2021. She graduated with a double major Bachelor Degree in Chinese and English Translation and Interpreting, Mass Communication and Journalism, and a minor in Korean from University of Queensland, Australia. With Jenny's years of experience studying abroad, it empowered her substantial individual learning and living ability, problem solving skills and communication skills. She is kind, hardworking and very responsible. Jenny aspired to be a great kindergarten teacher and use happiness to enlighten the hearts of children, be around with children and lead them to achieve their dreams. In Jenny's spare time, she loves cooking, singing, dancing and working out.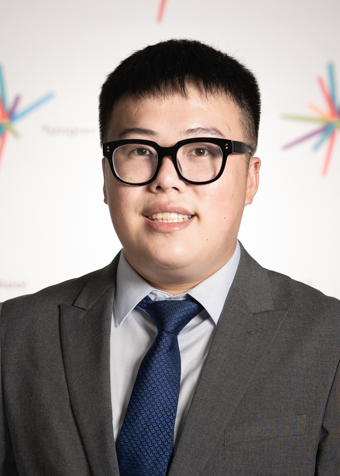 Johnny Si, Kindergarten Teaching Assistant, joined Tsinglan School in August 2021. He graduated from Wenzhou-Kean University with a Bachelor's Degree and from The University of Hong Kong with a Master's Degree in Education. During his undergraduate years, he worked as a teacher's assistant at the Kean University Affiliated Kindergarten, teaching children with different cultural backgrounds. During his graduate studies, he worked as a project assistant in the Horizon office of the University of Hong Kong, leading project activities for groups from China, the United States, Japan, and other countries. In his spare time, he like to read books, travel, and photography.
Xue Qin, preschool intern, earned her BA in English Literature from Capital Normal University, her MA in Translation and Interpreting from Nanchang University and her MSc in Cognitive Science and Artificial Intelligence from Universiteit van Tilburg, the Netherlands. She holds Qualification Certificate of Translation Proficiency, TEM-8 Certificate, and Certificate of Accomplishment of 8th Grade in the Playing of 'Pipa'. As a former employer of the International Exchange Center of Foreign Affairs Office of Beijing Municipality Government, she is experienced in translating, interpreting, organizing and coordinating international events. Loving, patient and detail-oriented, Xue is passionate about early childhood education and is devoted to the healthy and comprehensive development of all children.
Kyman Zhan, kindergarten intern. He graduated from City College of Dongguan University of Technology, majoring in accounting. I love design and have worked in this area for over eight years. I am familiar with the whole process of activity planning, from designing to implementing. Besides, I know quite well photography, brand design, video editing, modeling rendering and other fields. I believe that designing is far beyond drawing, it is a cognition of the world and a solution to various problems. In a word, everything belongs to designing, and everyone can be a designer.
Daisy Huan,school doctor, joining Tsinglan School in August 2020. She graduated from the TCM science specialty of Hunan University of traditional Chinese medicine, and graduated from the Second Affiliated Hospital of Hunan University of traditional Chinese medicine with a master's degree in surgery of TCM, Have Medical doctor practicing license and doctor qualification, and received the National standardized training of residents. She has experience in prevention and treatment of common infectious diseases and accidental injury , basic surgical operation and the health care field of TCM.